Industrial Application Spotlight - Precision Instrument Industry - Cactus Technologies
As we live in a world approaching 8 Billion people, imagine how many physical items each person acquires annually and that each item is produced in some manner. Without even pushing your mental envelope a little, you can arrive at over 100 Billion items requiring production each year.
This article takes a look at some precision instruments used in the design and manufacture of many of these products. These instruments are typically used in factories or laboratories to measure, modify and manipulate materials into a final product.
Let's take a look at some of these products. Each is controlled by some type of computing platform and typically stores its operating system, application and data on a flash storage device.
The Cactus Industrial Grade flash storage parts such as Industrial SD Cards, Industrial mSATA and others are used in these applications due to their reliability, long life cycles and locked-BOM (Bill-Of-Material).
Precision Robotics:
The main idea of robotics is to be able to handle items tirelessly and automate a production process. With modern technology, these machines can be made to handle components smaller or larger than a human and at much higher speeds.
They are also able to operate in extreme hot or cold conditions.
A key aspect is their ability to run 24/7 without fail. If you have a failure in a high volume or high value production environment, it can cost $100,000s to $1,000,000s per hour of down time.
Choosing a quality manufacturer with integrity to back up their promises is an important decision.
Measuring Magnetism, Volume & Density:
Measuring the components, subassemblies or final product is critical to making certain there is a consistent product being produced.
These devices are often found in laboratories to production facilities for the chemical, pharmaceutical, beverage, industrial, cosmetics, petroleum and food industries.
Balances, Scales:
High precision scales and balances allow measurements down to extremely small weights, while also being able to measure medium weights as needed. The importance is for these weights to be accurate and repeatable on every measurement.
Other precision instruments needed by industry include Moisture Analyzers, Automated Powder and Liquid Dispensing equipment to name a few.
All Precision Instruments require Reliable Flash Storage:
For any of these instruments which require a computing platform to operate, where they store their OS, application and data is an important consideration.
For a decade and a half, Cactus Technologies has been producing flash storage devices which can meet the toughest demands of the agriculture industry. Our Industrial Grade Flash Storage Devices based on SLC NAND continue to perform in the field after more than a decade of service.
The Cactus Industrial Grade Flash Storage products are offered in an extended (-45C to 90C) operating temp range and always come with a locked-BOM (Bill-Of-Material).
The locked-BOM is important since it makes no sense to qualify a flash storage device for months or years in your application when the production units will be built differently.
Our Industrial Compact Flash cards and Industrial microSD and SD Cards are popular in these applications.
Industrial Grade Form Factors:
We have some applications which have migrated to our Industrial MLC and Industrial pSLC storage devices. While build with MLC and pSLC NAND, many of these form factors have versions which operate at -40C to 85C.
As you can see by the Selector Guide below, there are a number of considerations which should be made when choosing the right flash storage solution for your application.
We are happy to work with OEM designers trying to find the right solution for their specific system. Please let us know if you would like to discuss further.
Flash Storage Grade Selection Tool: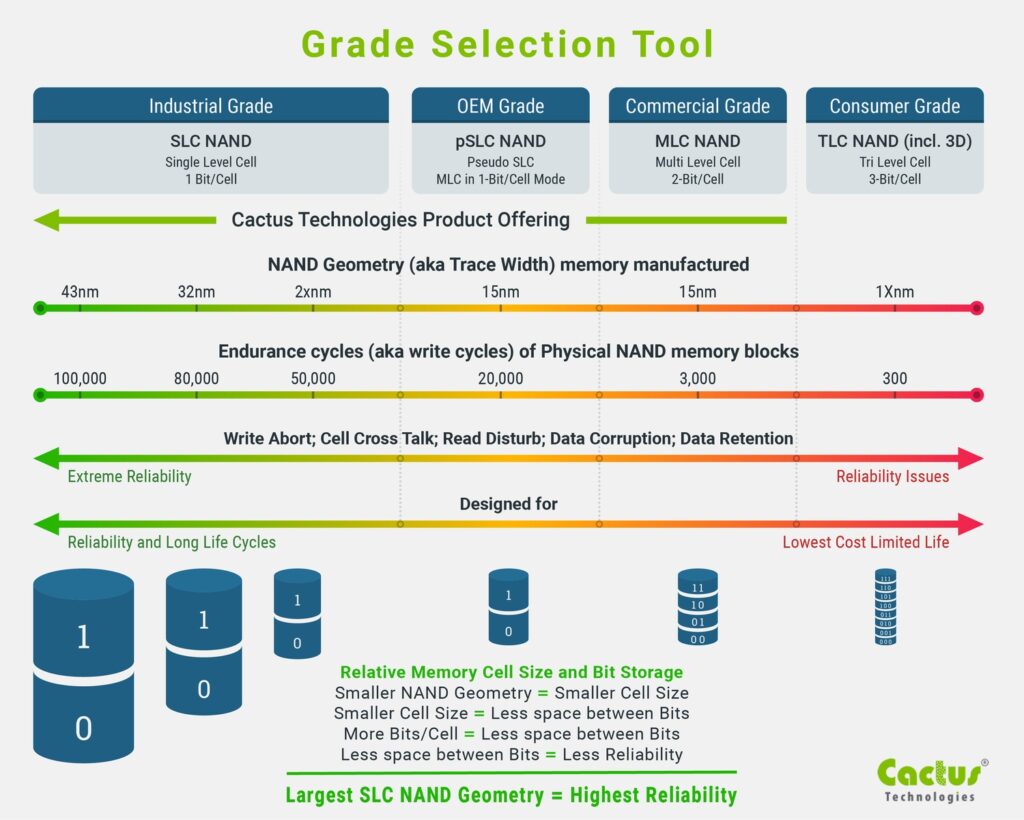 Since most flash storage devices look the same from the outside, without verifying if the Bill-Of-Material is Locked, you will likely end up with different components from order to order on the inside.
Different controller or memory silicon as well as firmware can have drastic effects on the performance, reliability and functionality of the product.
Final Thoughts:
Cactus Technologies focus is to make the most reliable Industrial SLC Flash Storage Devices based on SLC NAND memory, with a locked-BOM (Bill-Of-Material) to ensure the performance and reliability characteristics never change over the many years of production.
We also offer alternative OEM and Industrial MLC products, based on MLC and pSLC NAND memory to meet budget constrained applications. In addition, Cactus offers other interfaces to meet needs of embedded OEM application designers everywhere.
If you need assistance with an OEM design or needing special features, please contact us.