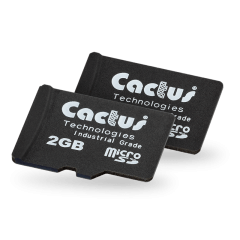 Cactus Technologies Industrial Grade microSD Card is a small form factor, highly reliable, high endurance flash storage device which conforms to the SD Associations microSD specifications. It is designed with the highest quality SLC NAND for applications which demand data integrity and 100% uptime.
Due to its low mass, the SLC micro SD can withstand significant shock and vibration. This product has an optional -45C to 90C extended temperature range version. If a custom industrial micro SD card solution is required, please contact a Cactus expert.
Highly reliable flash storage in Industry Standard microSD form factor
microSD form factor great for use in small rugged and handheld applications
Extended Temperature SLC microSD Cards
Cactus SLC micro SD are used in many harsh environments with extreme temperatures. Our standard Industrial microSD operating temperature is -25C to 85C, but for wider temperature environments, we offer the an extended -45C to 90C temperature range.

The extended temp industrial micro SD are thoroughly tested in a production temperature chamber at time of manufacture. Only parts fully passing all aspects of this testing are labeled and sold as extended temperature industrial grade microSD.
Industrial Grade microSD versus Consumer Grade
The microSD form factor was officially launched at the CTIA Wireless 2005 trade show. The reason for the launch at this cellular industry show was to address the growing need for a very small form factor memory card needed for the emerging smart phone market at the time.

Fast forward 10 years and the small form factor advantages of microSD are being used in industrial embedded designs. Unfortunately, many Consumer microSD cards are being used in applications where Industrial Grade microSD (aka SLC microSD) should be used.

Industrial microSD cards are based on SLC NAND flash memory, the most reliable available. They have endurance cycles of >2 Million per logical block and the ability to operate in high duty cycle 24/7 environments.

Consumer microSD cards are designed strictly for cost and in some cases performance. The needs of a consumer device are generally very low duty cycle and do not require the advantages, or cost, of the Industrial microSD products. Endurance cycles for consumer microSD can be as low as a few hundred per logical block.