Cactus Technologies Industrial MLC Compact Flash cards are reliable, cost-effective flash storage devices based on MLC NAND. They are intended for applications that demand high performance in a rugged small, footprint form factor guaranteed to MIL-810 Standard shock and vibration.
The Cactus Industrial MLC Compact Flash has a 36-48 month life cycle. If there is a need for an extended life cycle, Cactus will review the opportunity and can support specific OEM programs for longer periods of time. All Cactus MLC CompactFlash cards have a Locked-BOM (Bill-Of-Material), signifying no changes to the controller silicon, NAND silicon, or firmware without notification to the OEM customer.
If a substantially higher endurance, wider operating temperature range, or much longer life cycle than our MLC CF Cards is needed, Cactus also offers Industrial Grade Compact Flash products.
Reliable, cost-effective embedded flash storage solution
Rugged industry standard Compact Flash form factor
Compact Flash Extender Card for Development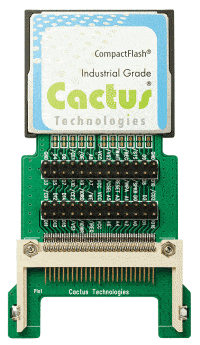 To ease the access to the CompactFlash card signals during an OEM's design, Cactus created the CF Extender Card.

The CF Extender Card plugs into the standard CF slot and provides a slot for the CF card at the other end. On the PCB the signals are labeled so that they can be probed as necessary during development.

This is only meant for development of Cactus CF cards and is not available as a production product. Please contact Cactus if you need specific details regarding this adapter.