Cactus Technologies Industrial Grade Compact Flash cards (CF) are the most reliable, high endurance flash storage devices on the market today. They are designed with the highest quality SLC NAND for applications which demand data integrity and 100% uptime. The Compact Flash form factor has been in existence since 1995 and its small size and rugged construction is ideal for many embedded flash storage requirements.
Cactus offers several varieties of Industrial Grade Compact Flash below to meet different application needs. Each Industrial CF Card has an optional -45C to 90C extended temperature range version and the Pro Series offering has many special features including military erasure, write protect, security and locking. If a custom solution is required, please contact a Cactus expert.
Industrial CF Card Features
Highly reliable flash storage in a small rugged industry standard package
Optional Pro Series features including physical write protect switch, CTPurge and more
Physical Write Protect Switch Compact Flash
Cactus Industrial Compact Flash cards are available with a Physical Write Protect Switch (-WP1 suffix) option in the 303 Pro CF Series.

When the switch on the bottom right rail of the Industrial CF Card is in the disabled postion the card can be read and written to normally. However, when the write protect switch is enabled, the card can only be read - any writes are not processed.

More details are in the 303 Pro Industrial Compact Flash Card product manual or feel free to contact a Cactus Expert.
Compact Flash to PC Card Adapter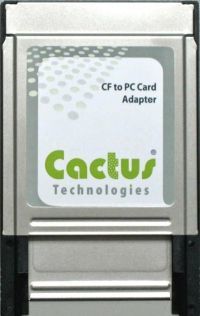 Cactus has a Compact Flash to PC Card adapter for applications using a Compact Flash card in the larger sized PC Card form factor slots.

The CF to PC Card adapter converts the 50-pin Compact Flash interface to the 68-pin PC Card (previously known as PCMCIA) standard. Once a CompactFlash card is in the adapter, it meets the form, fit and function of a PC Memory Card.

This adapter is meant to be used with Cactus Technologies Compact Flash cards and can be used with a CompactFlash card in volume production systems if required.

Please contact Cactus if you need specific details regarding this adapter.
Compact Flash Extender Card for Development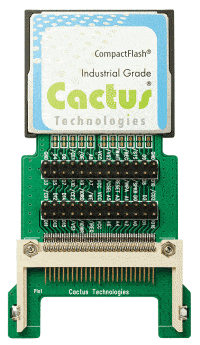 To ease the access to the CompactFlash card signals during an OEM's design, Cactus created the CF Extender Card.

The CF Extender Card plugs into the standard CF slot and provides a slot for the CF card at the other end. On the PCB the signals are labeled so that they can be probed as necessary during development.

This is only meant for development of Cactus CF cards and is not available as a production product. Please contact Cactus if you need specific details regarding this adapter.
Silicon Systems Inc Compact Flash, WD Compact Flash and STEC Compact Flash
Several Industrial Compact Flash suppliers have discontinued their embedded flash card offerings once being acquired by a larger company. For convenience, Cactus has created a cross reference page of many of the most popular model numbers of these vendors and an equivalent or higher reliability Cactus SLC Compact Flash solution.