Cactus Technologies Industrial Grade SDChip is rugged, highly reliable, high endurance flash storage device which conforms to the SD Associations electrical specifications. It is designed with the highest quality SLC NAND for applications which demand data integrity and 100% uptime.
The SDChip solders to the PCB which gives it the most rugged shock and vibration available. This product has an optional -45C to 90C extended temperature range version. If a custom solution is required, please contact a Cactus expert.
Highly reliable flash storage with an Industry Standard SD Interface
Solder down BGA package ideal for rugged embedded applications
SDChip Development Adapter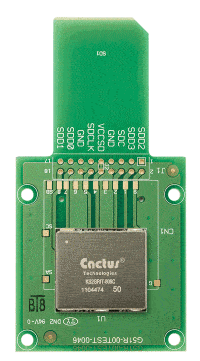 For OEMs interested in designing a Cactus SDChip into their systems, Cactus offers a development adapter to assist with design.

The SDChip development adapter has an SDChip mounted to a PCB which can be plugged into a standard SD slot on a development board. Since the SDChip has all the functionality of a SD Card, this will operate identically to an SD Card for development purposes.

In addition to extending the SD slot, there are probe locations which allow for signal analysis during design.

Please contact Cactus if you need specific details regarding this adapter.