The Cactus Technologies 806 Series Industrial Grade SDChip, available in capacities up to 8 Gbytes, is a rugged, highly reliable, high endurance, solid-state flash memory product with an SD interface in a BGA package. It is intended for OEM applications needing a high endurance part with high performance or requiring the optional full extended temperature range of -45C to +90C.
The 806 Series Industrial Grade SDChip is SLC NAND based and comes with full BOM Control, Long Life Cycles and is built with Stringent Quality Processes. Cactus Technologies incorporates Industrial Grade ECC, Wear Leveling, Write Abort Protection Circuitry and Defect Management into the product, making it the most reliable SDChip available. Custom Labeling, Custom ID and Preloaded Content are available based on customer requirements (see Custom Features).
Capacities

128MB – 8GB

Memory type

SLC NAND

Package

BGA

Endurance cycles

>2 Million

MTBF (Hours)

4 Million

Warranty

5 Years

Standard temperature

-25C to 85C

Extended temperature

-45C to 90C

Sequential read

20MB/sec

Sequential write

16MB/sec

Shock/vibration

3000 / 30

Pro feature set

No

SMART feature

Yes
Industry Standard SDA Version 1.1 and 2.0
Card Capacities 128MB to 8GB
Supports CPRM
Supports SPI Mode
Voltage Range: 2.7V – 3.6V
Unique Electronic Serial Card ID
Sustained Reads up to 20MB/sec
Sustained Writes up to 16MB/sec
Solid State Design With No Moving Part
Zero dB Noise
4 Million Hour MTBF
RoHS Compliant
5 Year Warranty
The 806 Series SDChip matches the these part numbers. If you are interested in any of these part numbers, please Contact a Cactus Expert.
KS128MRIT-806C
KS128MRT-806C
KS1GRIT-806C
KS1GRT-806C
KS256MRIT-806C
KS256MRT-806C
KS2GRIT-806C
KS2GRT-806C
KS4GRIT-806C
KS4GRT-806C
KS512MRIT-806C
KS512MRT-806C
KS8GRIT-806C
KS8GRT-806C
SDChip Development Adapter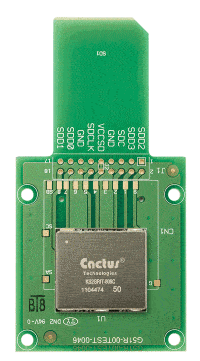 For OEMs interested in designing a Cactus SDChip into their systems, Cactus offers a development adapter to assist with design.

The SDChip development adapter has an SDChip mounted to a PCB which can be plugged into a standard SD slot on a development board. Since the SDChip has all the functionality of a SD Card, this will operate identically to an SD Card for development purposes.

In addition to extending the SD slot, there are probe locations which allow for signal analysis during design.

Please contact Cactus if you need specific details regarding this adapter.