Industrial Application Spotlight – Agriculture Technology - Cactus Technologies
Agricultural Equipment must operate in some of the harshest conditions since it is typically used in the outdoor environment. Due to these tough working conditions, the technology and electronics selected have to be up to the task.
Over the years, agribusiness has adopted technology to assist with the growing demands of food production required to feed the world. With this comes the need for computing and sensing devices which operate for many years at wide temperature ranges in high shock and vibration environments.
Driving efficiencies is a key aspect for this technology. From planting the right amount of seeds, limiting fertilizer to only what is needed, optimizing the production and processing yields, large cost savings can be realized.
The New Agribusiness is Data Driven:
The ability to analyze the best locations to fertilize, water and plant allows for increased production and improved income for farmers. It permits less acres produce more food, which is a key factor as world population continues to grow.
For a decade and a half, Cactus Technologies has been producing flash storage devices which can meet the toughest demands of the agriculture industry. Our Industrial Grade Flash Storage Devices based on SLC NAND continue to perform in the field after more than a decade of service.
The Cactus Industrial Grade Flash Storage products are offered in an extended (-45C to 90C) operating temp range and always come with a locked-BOM (Bill-Of-Material).
The locked-BOM is important since it makes no sense to qualify a flash storage device for months or years in your application when the production units will be built differently.
Our Industrial Compact Flash cards and Industrial microSD and SD Cards are popular in these applications.
Industrial Grade Form Factors:
We have some applications which have migrated to our Industrial MLC and Industrial pSLC storage devices. While build with MLC and pSLC NAND, many of these form factors have versions which operate at -40C to 85C.
As you can see by the Selector Guide below, there are a number of considerations which should be made when choosing the right flash storage solution for your application.
We are happy to work with OEM designers trying to find the right solution for their specific system. Please let us know if you would like to discuss further.
Flash Storage Grade Selection Tool: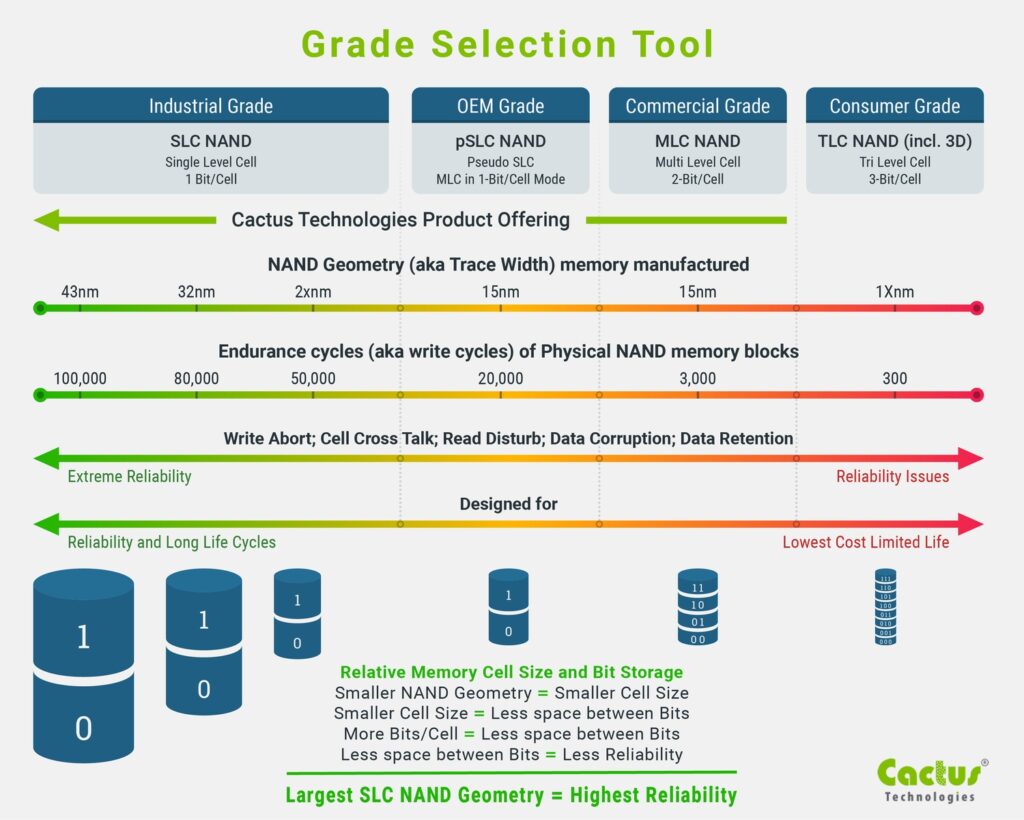 Since most flash storage devices look the same from the outside, without verifying if the Bill-Of-Material is Locked, you will likely end up with different components from order to order on the inside. Different controller or memory silicon as well as firmware can have drastic effects on the performance, reliability and functionality of the product.
Final Thoughts:
Cactus Technologies focus is to make the most reliable Industrial SLC Flash Storage Devices based on SLC NAND memory, with a locked-BOM (Bill-Of-Material) to ensure the performance and reliability characteristics never change over the many years of production.
We also offer alternative OEM and Industrial MLC products, based on MLC and pSLC NAND memory to meet budget constrained applications. In addition, Cactus offers other interfaces to meet needs of embedded OEM application designers everywhere.
If you need assistance with an OEM design or needing special features, please contact us.