The Cactus Technologies 303 Series Industrial Grade Compact Flash Memory Card is a SLC NAND based solid-state flash memory device that complies with the CompactFlash Association ATA standard in the CF Type I form factor. It is available in capacities from 128MBytes to 32GBytes and intended for OEM applications needing a high endurance part with very good performance or requiring the optional full extended temperature range of -45C to +90C. For low power applications, a 303 Series Compact Flash can be configured to have the same power as the 203 Series.
The 303 Series Compact Flash comes with full BOM Control, Long Life Cycles and is built with Stringent Quality Processes. As with our other Industrial Grade products, Cactus Technologies incorporates Industrial Grade ECC, Wear Leveling, Write Abort Protection Circuitry and Defect Management into the 303 Series CF, making it the most reliable device available. Custom Labeling, Custom ID and Preloaded Content are available based on customer requirements (see Custom Features).
Capacities

128MB - 32GB

Memory type

SLC NAND

Endurance cycles

>2 Million

MTBF (Hours)

4 Million

Warranty

5 Years

Standard temperature

0°C TO 70°C

Extended temperature

-45°C TO 90°C

Sequential read

35MB/S

Sequential write

20MB/S

Shock/vibration

3000/30

UDMA

Up to Mode 4

Pro feature set

No

SMART feature

Yes
Industry Standard CF Type 1 Form Factor
Card Capacities 128MB to 32GB
Supports True IDE Mode
Supports ATA PIO Mode 0-6
Support Multiword DMA Mode 0-4
Supports UDMA Mode 0-4
Dual Voltage Support: 3.3V or 5.0V
Unique Electronic Serial Card ID
Supports Traceability Barcode
Solid State Design With No Moving Part
Fast Data Transfer Rates
USA-Army 380-19 Spec
High Shock & Vibration Tolerances
Wide Operating Temperature Range
The 303 Series CompactFlash matches the these part numbers. If you are interested in any of these part numbers, please Contact a Cactus Expert.
KADPT-CF02
KC128MF-303
KC128MF-304
KC128MFI-303
KC128MFI-304
KC128MR-303
KC128MR-304
KC128MRI-303
KC128MRI-304
KC16GFIT-303
KC16GFIT-304
KC16GFT-303
KC16GFT-304
KC16GRIT-303
KC16GRIT-304
KC16GRT-303
KC16GRT-304
KC1GF-303
KC1GF-304
KC1GFI-303
KC1GFI-304
KC1GR-303
KC1GR-304
KC1GRI-303
KC1GRI-304
KC256MF-303
KC256MF-304
KC256MFI-303
KC256MFI-304
KC256MR-303
KC256MR-304
KC256MRI-303
KC256MRI-304
KC2GF-303
KC2GF-304
KC2GFI-303
KC2GFI-304
KC2GR-303
KC2GR-304
KC2GRI-303
KC2GRI-304
KC32GFIT-303
KC32GFIT-304
KC32GFT-303
KC32GFT-304
KC32GRIT-303
KC32GRIT-304
KC32GRT-303
KC32GRT-304
KC4GF-303
KC4GF-304
KC4GFI-303
KC4GFI-304
KC4GR-303
KC4GR-304
KC4GRI-303
KC4GRI-304
KC512MF-303
KC512MF-304
KC512MFI-303
KC512MFI-304
KC512MR-303
KC512MR-304
KC512MRI-303
KC512MRI-304
KC8GF-303
KC8GF-304
KC8GFI-303
KC8GFI-304
KC8GR-303
KC8GR-304
KC8GRI-303
KC8GRI-304
Compact Flash to PC Card Adapter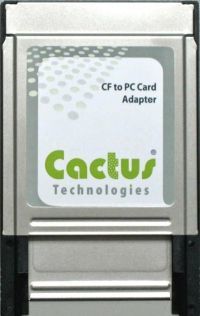 Cactus has a Compact Flash to PC Card adapter for applications using a Compact Flash card in the larger sized PC Card form factor slots.

The CF to PC Card adapter converts the 50-pin Compact Flash interface to the 68-pin PC Card (previously known as PCMCIA) standard. Once a CompactFlash card is in the adapter, it meets the form, fit and function of a PC Memory Card.

This adapter is meant to be used with Cactus Technologies Compact Flash cards and can be used with a CompactFlash card in volume production systems if required.

Please contact Cactus if you need specific details regarding this adapter.
Compact Flash Extender Card for Development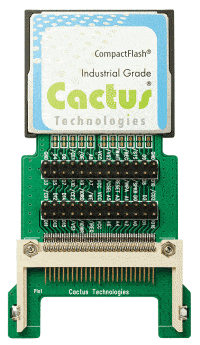 To ease the access to the CompactFlash card signals during an OEM's design, Cactus created the CF Extender Card.

The CF Extender Card plugs into the standard CF slot and provides a slot for the CF card at the other end. On the PCB the signals are labeled so that they can be probed as necessary during development.

This is only meant for development of Cactus CF cards and is not available as a production product. Please contact Cactus if you need specific details regarding this adapter.